Meet Dr. Joseph Schmitt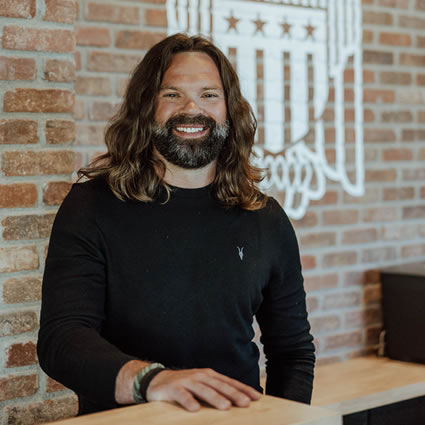 For almost a decade, Dr. Joseph Schmitt has been serving the needs of practice members to help them live their best life. At Sozo Chiropractic, Dr. Joe specializes in customized care plans for everyone in the family. Whether you're a newborn or child, or a mom-to-be or a professional athlete, he has the tools and expertise to help.
A Meandering Road That Led to an Extreme Passion
While still in high school, Dr. Joe suffered a severe knee injury. He began to battle depression, low back pain, sleep problems, sciatica and weight gain. He was on five medications to keep his symptoms at bay. While attending college, the symptoms continued to worsen and he began to lose hope. He was told that his only solution was either more medications or back surgery.
"I began to explore alternative options—I didn't want to submit to surgery. My search landed me in the office of a chiropractor. Within 10 months of care, my symptoms had virtually vanished. I then began wellness care. After about three months, my chiropractor looked at me and said, 'Have you ever thought about becoming a chiropractor?' Actually, I hadn't. But I realized this natural strategy had changed my life. After that, it was all I could think about. I wanted to help people the way that I had been helped. I wanted to give people what was give to me…hope."
You Can't Medicate Your Way Out of a Problem
"I think medical care in this country is fantastic—particularly for acute trauma. But so many suffer from chronic issues for which traditional medicine has no solution. Unless you want to be on medication for the rest of your life, there are much better alternatives. Many health issues today are stress-related and are intertwined with a poorly functioning nervous system. Chiropractic care is the answer."
CHIROPRACTIC CARE »
On a Personal Note
Dr. Joe is married and has a lovely little daughter. He and his family have a farm in Elizabeth. They love to spend hours in the outdoors, especially on the weekends. Their property is filled with animals that they cherish—horses, mules, chickens, dogs, cats and pigs. Dr. Joe himself was brought up on a farm with his two brothers, and loves the peace and tranquility that only nature can provide.
Join Our Practice Family
We'd like to warmly welcome you to our experienced and compassionate care. Yes, we're the real deal. We care, and we get results. We feature on-site digital X-rays and always offer a free consultation. We'd like to encourage you to book an appointment today!

Dr. Joseph Schmitt | (720) 390-5757