Sozo Skin Company
At Sozo Chiropractic, we are pleased to offer the following injectables: BOTOX® Cosmetic, Dysport®, Jeuveau®, and Xeomin® that can reduce the signs of aging and help you achieve a refreshed, younger-looking appearance.
How Do They Work?
These injectables work to smooth fine lines and wrinkles by temporarily relaxing muscles responsible for creating these fine lines and wrinkles.
Here's a look at the different brands of injectables:
BOTOX Cosmetic is a prescription medicine injected into muscles and used to temporarily improve the appearance of moderate to severe forehead lines, crow's feet lines, and frown lines between the eyebrows in adults. The popularity of BOTOX has increased annually.
Similar to BOTOX, Dysport is an injection used to treat moderate to severe facial lines and wrinkles between the brows to restore a more youthful appearance.
This prescription medicine is injected into muscles and used in adults to temporarily improve the look of moderate to severe frown lines between the eyebrows.
For cosmetic purposes, Xeomin can be used to smooth out facial lines and wrinkles, such as those that develop between the eyebrows, on the forehead, and around the eyes (crow's feet).
Complimentary Consultation
Wondering which brand is right for you? Request a complimentary consultation with Lauren. You can either call the practice at (720) 390-5757 or book online.
During the consultation, she will discuss the concerns you have about your body in general as well as aging, and identify what your focus is on. For example, do you want to diminish the appearance of smile lines or crow's feet?
"After determining a client's aesthetic goals, I'll identify some options and solutions we can review to naturally reduce the acceleration they may be seeing," she said.
"My passion is to offer subtle enhancements that look natural as we age gracefully, together."
Lauren will provide you with a treatment plan and outline the costs involved.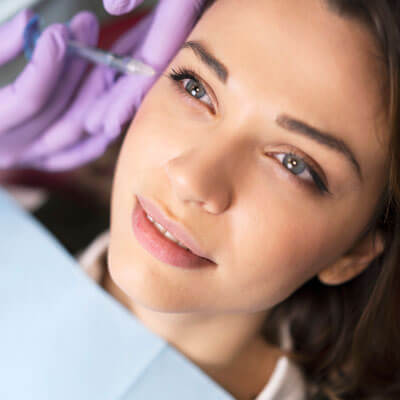 FAQ
It's just a 10-minute treatment in the chair.
How often will I need to return for follow-up treatment?
If it's the first time you're having one of the injectables (not fillers), we recommend you follow up with a treatment in 3-4 months. If you're consistent and find the right products, you may not need a follow-up treatment for four months.
What's the difference between an injectable like
BOTOX and a filler?
While BOTOX and fillers are two types of injectables, BOTOX is used to reduce fine lines and wrinkles by relaxing the underlying muscles. Fillers, on the other hand, will fill in wrinkles.
Lauren plans to in the not-too-distant future. She will be completing more training in Fall 2023 with a Board Certified Plastic Surgeon & Nurse Practitioner with over 50 years of combined experience.
Book Your Time Today
Take that first step toward a younger-looking appearance. Contact us today to schedule a consultation!
CONTACT US »

Sozo Skin Company Castle Rock CO | (720) 390-5757